Celebrating 20 Years of YWA! Buy Your Tickets Now!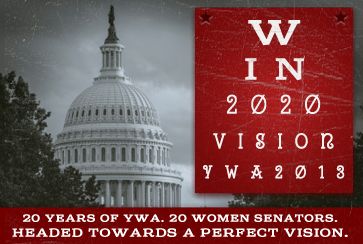 The 2013 Young Women of Achievement (YWA) Leadership Team is pleased to announce that tickets are now on sale for the Young Women of Achievement Awards.
Honor your friends and colleagues who have made strides in their field and a real difference in the world. WIN's YWA Awards is the annual celebration of highly talented up-and-coming young women leaders making a difference in the community.
YWA acknowledges young (35 years of age or younger), pro-choice, Democratic women of excellence who have made strides in their field and a real difference in the world.
The 20th Annual YWA Awards will be Thursday, February 28, 2013 at 6:30 pm at the Carnegie Institute of Washington, 1530 P Street NW. YWA is composed of two parts: a networking reception and an awards ceremony, which honors the accomplishments of 48 local DC women under 35. The networking reception serves as way for WIN members to mingle in a professional setting. It's also a great opportunity to meet Advisory Council members, the Executive Committee, the Network Council, and the YWA Nominees themselves.
The awards ceremony opens with a keynote speech. Some past speakers include Congresswoman Donna Edwards, and Christine Pelosi, author of Campaign Boot Camp. After the speech, the 39 nominees are recognized and the winners are announced. Overall, YWA is the perfect way to acknowledge distinguished rising stars in the WIN community!
YWA is fantastic opportunity to meet other accomplished Pro Choice, Democratic Women!
Find out more about YWA, including ticket information, here.